Featuring the best packaging technology available on the market, Pack Expo will have all the latest trends and solutions for any packaging line. Communicate with packaging professionals to gain insight and exposure to different industries.
On a dynamic show floor with over 2,000 exhibitors, explore state-of-the-art packaging equipment, automation technologies, and innovate packaging solutions.
This year, Wexxar Bel will be showcasing a number of new features for their machines. With exciting new machine integrations and upgraded options, see what Wexxar Bel has to offer at booth #C-2824 within the ProMach pavilion.
End-users are eligible for free registration using our comp code: 29S32.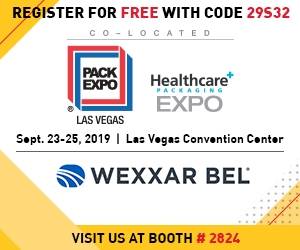 Click the image above to have the code automatically applied at checkout.

Find us at Pack Expo 2019 at booth #C-2824 or contact us here!